Fire Escape addition to Lime House Care Home
Here at Carter Fabrications, we're happy to have worked with the Lime House Care Home in Warrington on our most recent project, adding a fire escape to the rear of their building.
This installation added a functioning fire escape to the care home that meets all of the required fire safety regulations.
In this case study, we will explain the work we did and how it benefits the staff and residents of Lime House.
Installing a fire escape for Lime House Care Home
The Carter Fabrications team installed this new fire escape to the rear of the building, giving the structure a safe fire exit that adheres to the relevant fire safety regulations.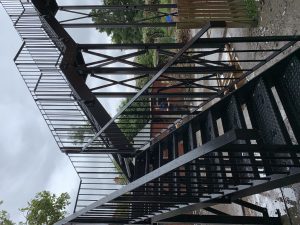 We worked with Lime House at every step of the way, from design to installation.
Given the contemporary structure of Lime House, we made sure that the fire escape was practical as well as in keeping with the design of the historic building.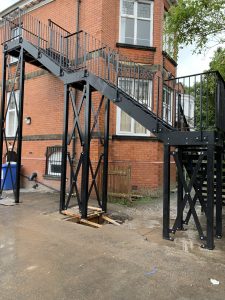 The fire escape stretches to the second floor, with structural supports at each level to keep it sturdy.
Contact Carter Fabrications To Join Your Project
Learn more about our metal fabrication services including bespoke metal fire escape stairs.
If you need a fire escape like this one adding to your building then get in touch with Carter Fabrications today by calling 01282 420651 or 07811 534 563.
Alternatively, you can contact us online.