How many fire escapes should a business have?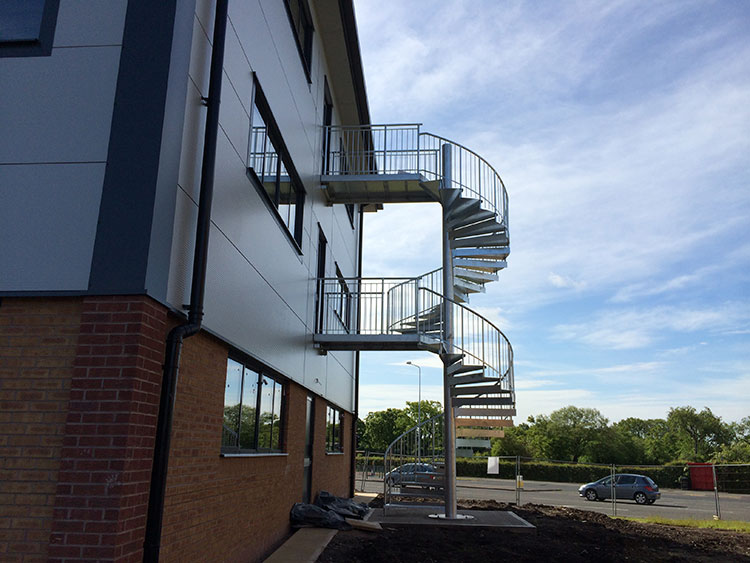 When looking at your business health and safety plan, it can be expected that you should have at least one fire escape in your building to allow a swift exit should a fire or other emergency occur. Depending on the size of your business, it is recommended that you provide more than one fire exit. Here at Carter Fabrications, we have been designing and building fire escapes for over twenty-five years from the best materials for different companies across the UK.
Fire Exit Door Regulations in the UK
If you run a business in the UK, then it is essential that you comply with the current legislation determined by the government, which includes fire, health and safety regulations. Your company needs to adhere to the Regulatory Reform Order (2005), according to which, a fire escape should lead directly to a safe place, be easily accessible and quick to open and be clearly labelled. If you work in a public building or there are a large number of employees, then the exit should open via push bars or pads, which Carter Fabrications can help you implement.
Although there are no concrete rules about how many fire exits a business must have, it is certain that there should be at least one. Where possible, multiple fire escapes are recommended so that there is always a route out of the building in case of an emergency. Each escape should be no more than sixty metres away from any point in the building, but if only one exit is provided then it should be no more than twenty-five metres away.
Bespoke Fire Escapes from Carter Fabrications
Of course, fire escapes are a necessity in any commercial building, and whatever your requirements Carter Fabrications are able to create a bespoke package to suit your business specifications, including outdoor stairs where relevant. Naturally a fire escape is a legal requirement, but that doesn't mean it shouldn't suit your property! The team here at Carter Fabrications will work closely with you to provide a tailored fire escape made from high quality materials in a design that works for you.
You can see more of the work that we do creating bespoke metal fabrications for the industrial sector here.
Contact Us Today
If you would like to find out more about our range of fire escapes or if you would like a personalised metal fabrication for your commercial building, then be sure to get in touch with the experts here at Carter Fabrications today. You can call us directly on 01282 420 651, or alternatively contact us online and a member of our team will get back to you at your earliest convenience.