Merry Christmas from Carter Fabrications!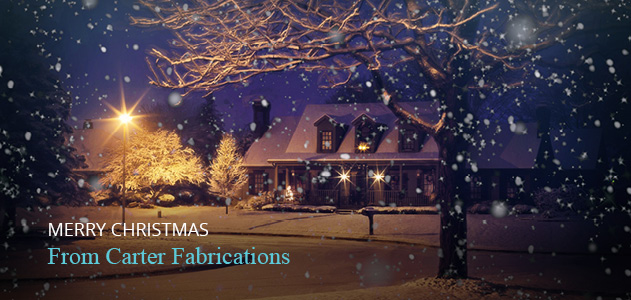 We are now in December and as we approach Christmas, the festivities have begun! At Carter Fabrications we're celebrating too, so we would like to take this opportunity to wish all our customers a very Merry Christmas and a Happy New Year!
Carter Fabrications provide a range of services that can enhance your home such as steel balustrading, spiral staircases and even a personal cocktail bar. We have been enhancing customers' homes throughout 2019 and can't wait to see what the new year brings!
So, if you're looking to enhance your domestic or commercial property in 2020 then we can help.
Steel and Metal Fabrication
Are you looking to refresh your home next year? With Carter Fabrications, make your home feel brand new, as we offer a range of bespoke services for a range of properties!
Balustrading
Balustrading can make the perfect addition to your property and significantly enhance its value in the New Year.
Whether you opt for glass or steel balustrading, it adds luxury to any property. If you are looking for commercial balustrading, perhaps for a rented block of flats or student accommodation, Carter Fabrications can help. With a choice of materials available, we're sure we'll have everything needed to meet your wishes.
Discover how Carter Fabrications balustrading can improve your property .
Staircases
A new glass or steel staircase can transform your home this winter and create that refreshed aesthetic you've been looking for.
Not only are the high-quality staircases a fantastic investment for your home that will increase the value of your property, but they are also stunning staircases, designed to impress. Choose from spiral, helical and multilevel styles in a range of different materials including steel, mild steel and glass.
Crafted with both style and safety in mind, our team have years of experience in the industry, so can cater to your requirements whilst ensuring everything is perfect for you. We will work with you throughout the design and manufacturing process, to guarantee you get the best outcome possible.
Head into 2020 with a brand-new set of stairs and find out more about the stainless steel staircases.
Railings and Fencing
Carter Fabrications provide high-quality metal railings and fencing options, finished and installed with the upmost care and attention to the smallest detail.
Whether you are looking for security railings for a commercial purpose or fencing for your home, the railings and fencing from Carter Fabrications are secure and reliable. We use durable material including metal, wrought iron and steel to ensure your premises stays secure.
Our team will also work with you to incorporate your designs for that perfect fence. Find a wide range of bespoke railings, custom fencing and driveway gates available.
Contact Carter Fabrications
If you are interested in any of the bespoke glass and steel installations from Carter Fabrications then please speak to a member of our team directly by calling 01282 420651 or 07811 534 563. Alternatively, you can contact us online.
But, for now, Merry Christmas from the team here at Carter Fabrications, we hope you have a wonderful Christmas and start to the New Year!
Choose Carter Fabrications for stainless steel fabrication in the UK.