Repositioning a Staircase – Is It Worth It?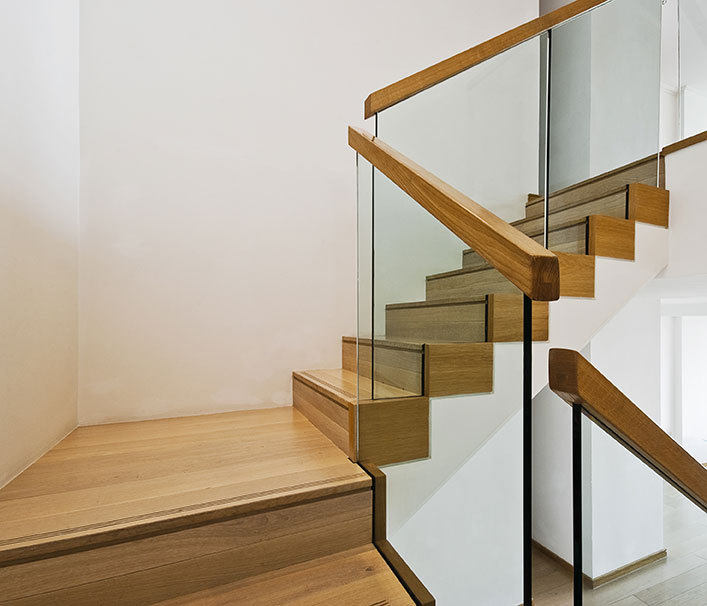 If you are renovating your home and want to achieve a fresh appearance or create new space, repositioning the staircase is a popular and viable option.
Despite what may appear to be a complex task at first glance, repositioning a staircase is actually more straightforward than it seems as it can be more economically viable than you may think.
This is especially true if you use an expert contractor when repositioning your staircase. Below, we outline the key points to consider when thinking of moving your stairs.
Why You Should Change or Move Your Stairs' Positioning
There are a multitude of reasons as to why you might consider repositioning your staircase. Fundamentally, moving your staircase has an array of benefits to consider, such as the ones listed below:
Change-Up Your Home's Décor
Tired and dated designs can impact the overall look and feel of your home. A new configuration can achieve the perfect appearance and add value to any property
Upgrade The Existing Design
Changing the location of your stairs gives you the opportunity to use different materials to achieve different effects. You may decide to upgrade your existing staircase by using steel, wood, glass, or a mixture of materials.
Optimise Space
Another key reason to relocate your staircase is to increase the amount of space in your home. If your existing stairs limit the amount of space in your hallway, or they prevent you from undertaking other building work, this option should be considered.
Key Considerations When Repositioning Your Staircase
When considering changing the stairs in your home, it is important to seek the expertise of an experienced contractor. But there are a few things you can do beforehand to speed up the design process.
1. Location
The first is to have a general idea of the location for the stairs. This could be a basic realignment, moving the stairs to a new area of the home, changing the angle, or turning the direction of the staircase. The best place to put a staircase varies according to the layout of the home and other factors.
2. Materials and Staircase Type
Having an idea of the overall design and materials you would like is an important part of the design and planning process when moving and/or redesigning your staircase. From the type of staircase you're looking for, you will then know more as to what material is most suitable for you.
Types of Staircase:
Straight: Most commonly, straight staircases are the most affordable and popular type By far the simplest and most common type of staircase, straight stairs are very popular and are usually quite affordable.
Quarter turn: An easy way to save space and increase privacy between floors is a quarter turn staircase.  
Half turn: A popular design in care homes and smaller hotels are half turn staircases which feature a resting space halfway up the staircase. With a landing and resting space halfway up, half turn staircases fit well into structural designs and are popular in care homes.
Winding: Aesthetically stunning, winding staircases take up less space than other varieties and can be used throughout several floors.
Spiral: Spiral staircases are an ideal fit for small spaces and are usually made from metal.
Common staircase materials include:
Metal: Spiral staircases are commonly made from metal and whilst metal staircases tend to create a lot of noise, as a material it is strong and durable.
Hardwood: Hardwood is a strong material type that's more expensive than softwood and requires some up-keep over time.
Softwood: This staircase material is cost-effective and simple to work with. Typically, softwood is used for straight staircases.
Glass: An expensive alternative at times, but the ideal material for those looking to create a modern aesthetic.
3. No Planning Permission Needed!
In the vast majority of cases, you do not need planning permission from your local authority to relocate your stairs. If the new design does not impact the external appearance of your property, you just need to submit a building regulations application.
How Much Does it Cost to Move Stairs?
A variety of factors will impact the ultimate cost of moving your staircase. It's important to plan your staircase reposition project carefully and as accurately as possible, in order to stay within your financial budget.
Cost factors include:
Finish: It may be necessary to pay for decoration if the stairs aren't in top condition, this is likely to include painting, flooring and plastering.
Style of new staircase: The style of each individual staircase will have significant impact on the cost of the repositioning project as they are priced differently.
Extra design features: A cost increase of up to 10% is to be expected if you're looking to add extra features such as caps, handrails and spindles.
Ease of access: If a staircase is less accessible it can take longer to install and therefore the labour charge will cost more.
Scale of new staircase: The larger and more complex the staircase reposition, the higher the cost, making them more expensive than a simple small staircase.
Ask Carter Fabrications To Reposition or Move Your Stairs
Carter Fabrications is a long-established steel and metal fabrications company. We have great experience of undertaking high-quality home improvements, including staircase repositioning.
We specialise in glass and steel staircases, and can even install mezzanine floors and balustrades, either on single or multiple levels, depending on the nature of your project.
Besides residential developments, we are also able to undertake commercial projects. Get in touch with us today by calling 01282 420651 to discuss your new staircase idea and obtain a free on-site visit and quotation.
Alternatively, arrange a call-back at your convenience when you leave us a message online.